Tune Into English is proud to present the first ever
TUNE INTO ENGLISH ROADSHOW LIVE STREAM
Join us on the 7th April from 10:30am to 12:30 (CET) on YouTube and Facebook for the first ever live stream of The Tune Into Roadshow!
Video presentation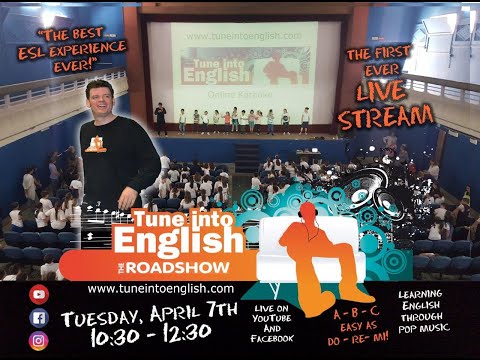 The Tune Into English Roadshow.
Fifteen years… ten countries…
The first ever live stream…
Tuesday 7th of April at 10:30.
Join me for two hours of learning English through pop music.
And because you, the audience, will be at home, you can send us your videos during the show – we'll publish the best!
"The best ESL experience ever!"
Start sending your videos now for broadcast during the show!
info@tuneintoenglish.com
Tag: @tuneintoenglish #tunestream
YouTube and Facebook streaming links will be available here.
Note: for a higher quality stream the Tune YouTube channel needs at least 1,000 subscribers.
Please subscribe!
See videos from the first fifteen years of the Roadshow
Read Comments from 2005 to 2020
Note: Students should watch the show on a computer, as a phone screen is too small to read the lyrics. Also, you'll need your phones to record your singing selfies!
Please tell us your age when sending the video – if you are under 18 you will also need to send authorisation for publication from a parent or guardian. Otherwise your face will be hidden before we upload the video.